Registration Info.
Show Information
Dates : August 23 (Wed.) - August 26 (Sat.), 2023
Times : 9:30 AM ~ 5:00 PM (Last day until 4:00PM)
Exhibit Category
Smart Manufacturing

Smart Factory: Enterprise Resource Planning (ERP), Quality Control Solutions, Product Lifecycle Management (PLM), Mixed Reality (MR), Recognition System, Industrial Internet of Things (IIoT)、Factory Automation Equipment and System, Wireless Communication Equipment and Module, Software-Defined Networking, Sensor Network System, Supervisory Control and Data Acquisition (SCADA), Energy Saving System, Risk Management System, Development and Consulting, etc.
Industrial Intelligence: Intelligent Machinery, Industrial Robot, Testing & Measuring Instrument, Computer-Aided Design (CAD), Computer-Aided Engineering (CAE), Computer-Aided Manufacturing (CAM), Storage Equipment, Fork Lift Truck, Automated Guided Vehicle (AGV), Embedded System, Industrial Personal Computer (IPC), Laser Equipment, Process Automation, Automatic Control Engineering, Electrical Engineering, 、Pneumatic & Hydraulic Equipment, Production Line Design and Related Services.

Smart Services (Business Application)

Smart Logistics: Order Management System (OMS), Warehouse Management System (WMS), Electronic Data Interchange (EDI), Advanced Planning & Scheduling System (APS), Automatic Storage & Retrieval System (AS / RS), Computer Aided Picking System (CAPS), Automated Material Handling Equipment & System, etc.
Smart Retail: Point of Sale (POS), Intelligent Customer Service System, Store Environment Design, Automated Vending Solutions, Automated Order System, Business Process Automation (BPA), Unmanned Store, etc.
Smart Medical: Smart Medical Device, mHealth, Remote Patient Monitoring Systems, Smart Healthcare Tools, Wearable device, Hospital Information Systems (HIS), etc.
Smart Service: 3D Printing, Office Automation, Smart Home / Appliances / Building Materials, Smart Energy Saving & Monitoring, Safety Monitoring, Automation in Agriculture & Fisheries, Building Automation, etc.

Service Robot

Commercial Robots: Reception, Guided Service, Catering Service, Financial & Investment Service, Customer Service, Airport Assistance, etc.
Personal Robots: Wearable Intelligence, Personal Vehicle (Auxiliary Drives, Self-Balancing Electric Vehicle, Electric Unicycle, etc.), Intelligent Assistant, Chatbot, etc.
Home Robots: Home Care, Cleaning, House-Keeping, Security, Entertainment, etc.
Special-purpose Robots: Surgery, Prosthetic, Assistive Device, Agriculture, Logistics & Warehousing, Education, etc.
Security & Defense Robots: Patrol, Disaster Relief, Surveillance, Reconnaissance, etc.

Artificial Intelligence (AI)

Deep Learning, Machine Learning, Neural Network, Image Recognition, Speech Recognition, Natural Language Processing (NLP), Big Data, etc.

Industrial Supply

Electric Motor, Variable-frequency Drive, Electrical Component, Contactor, Switch & Signal Relay, Enclosure, Electric Parts, Repair Parts, Sensor, Vision System, Clamping Jaw, Parts of Robots, Equipment Components, etc.
Marketing Plan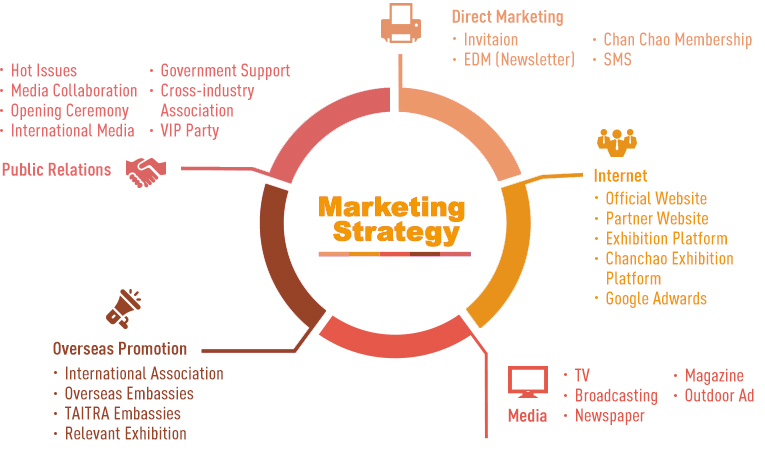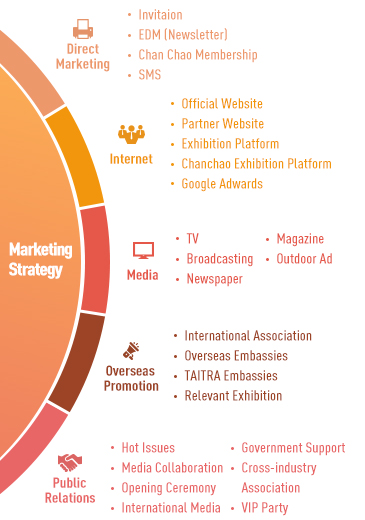 Exhibition Fee
| Type of Stand | Show Area | Price |
| --- | --- | --- |
| Raw Space | 9 sqms (3m×3m) | US $2,520 |
| Standard Booth | 9 sqms (3m×3m) | US $2,880 |
Standard Booth contains: 3 Partitions, 3 Spot lights, 1 unit 110V socket, 1 Carpet (9sqms), 1 fascia board, 1 Information Desk and 1 chair.
Exhibitors could choose to rent raw space (searching contractors by yourself) or standard booth with basic furniture.
Power Electricity, 24hrs electricity, water supply of water pipe, air compressor and forklift will be charged additionally.
Register Procedure
With the application form and the signature of company and the person in charge, mail or fax to:
Chan Chao International Co., Ltd.
Address: 3F, No.185, Kangchien rd., Nei-Hu Dist, Taipei, Taiwan(R.O.C.)
Tel: +886-2-2659-6000 / Fax: +886-2-2659-7000
Executers: Ms. Allison Tsui ext. 315
Email: automation@chanchao.com.tw
Taiwan Automation Intelligence and Robotics Association
Ms. Fion Chen #14
TEL: +886-4-2358-1866
E-mail: service@tairoa.org.tw
Exhibitors have to remit the full booth payment before December 31, 2022 for the completion of the registration process, and join the booth selection afterwards.
Withdrawal from the Exhibition
No refund if the down payment has been paid.
Exhibitors who have made payments and cancel before booth selection, shall be eligible for a 50% refund of the total booth rental fee. Cancellation after booth selection shall receive no refund. Payments will be used for promotional expense for this exhibition.
Booth rented by the participating company cannot be transferred in private or cannot be utilized by company with name other than the company name during application (including name of sponsoring company). If there is violation, the organizer will immediately take back the transferred booth and will prohibit the company who did not apply to exhibit to continue to exhibit. The transferor will be prohibited to participate in any trade promotion activity conducted in the country by the organizer within two years.
Products displayed by participating companies must be related to the theme of this exhibition. Otherwise, exhibition will be prohibited.
Advisors
To be determined
Organizers
Taiwan Automation Intelligence and Robotics Association
Chan Chao Int'l Co., Ltd.